Diabetes, Prediabetes? Abbott's New Glucerna Triple Care Can Be Sweet For You!
UPDATED: As we age, we become more prone to
diseases
that stop us from wanting to trek high mountains, visit our high school friends in far places and continue our favorite gardening routine. One of the diseases that affected 380 million lives worldwide in
2013
is
diabetes
.
Read more: 16- Science Backed Ways to Prevent Diabetes
In the Philippines, diabetes hit 9.7% of the adult population in 2012. Studies have it that 1 in 5 Filipino adults has diabetes or prediabetes.
Diabetes refers to a group of diseases that is caused by high level of blood sugar.
Among the effects of diabetes are:
a.
Heart problems that may lead to heart attack or stroke
b.
Eye complications that can result to moderate loss of vision
c.
Kidney failure that can occur after 20-30 years of having diabetes
d.
Nerve damage that affects the over-all performance of the body
e.
High blood pressure that increases heart disease risk
f.
Skin complications including bacterial infections, fungal infections and itching
Combat Diabetes with Glucerna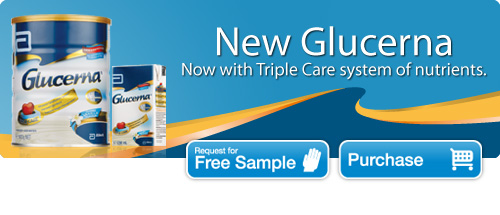 Glucerna Triple Care, from Abbott Nutrition, is our new buddy in combating diabetes and prediabetes. It is an advanced specialized nutrition to help manage weight and reduce cardiovascular risk factors in conjunction with an overall diabetes management plan, including diet and exercise.
Clinically proven, Glucerna Triple Care is scientifically designed to provide three key benefits for people with prediabetes or diabetes:
1.
Manages blood sugar (or glucose) levels
3.
Helps with weight management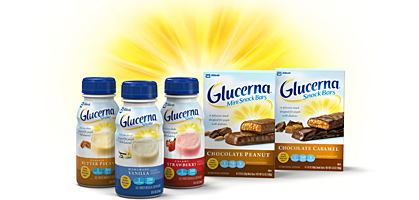 Here are the things that we need to know about Glucerna Triple Care:
1.
Glucerna Triple Care has an advanced, slowly digested, low-GI carbohydrate system to manage blood sugar response.
2.
Glucerna Triple Care has a unique heart-friendly lipid blend rich in MUFAs and omega-3 fatty acids to support heart health.
3.
Glucerna Triple Care has a combination of key ingredients including FOS to help reduce weight and waistline.
4.
Glucerna Triple Care is at 225 calories per serving.
5.
Glucerna Triple Care is composed of 32 vitamins and minerals.
6.
Glucerna Triple Care is available in vanilla and chocolate flavors.
Glucerna is the leading doctor-recommended diabetes nutrition brand in the US. To learn how it can help you enjoy the bright and pleasurable life that God has given us, visit the Glucerna website now.